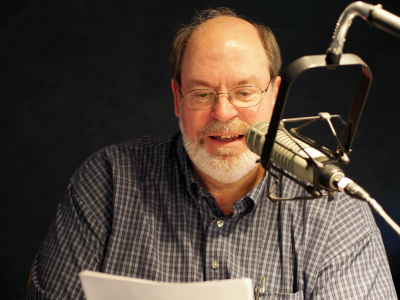 Since 1979 Dan has been producing 1-minute spots called: "Minute Meditations" for radio stations in various states and via Trans World Radio in South Africa, the Caribbean and north-east South America.
His latest project is "Moments of Joy" as Dan wishes everyone: "Joy in Jesus."
---
Keep Your Head . . . If You Know Christ
Vampires are back. Well, not literally, but Archaeologists in Poland have discovered what they believe to be a vampire gravesite. Real vampires in graves? Well, no, not really.
Some cultures during the medieval times, especially in Europe, believed that vampires just might be real. So, the dead would have an iron rod nailed thru the chest, or a body would be weighted down with rocks preventing them from rising again. Sometimes the head would be placed on the legs in hopes that the inability to find their head would keep them from becoming a vampire.
I've lost my head on occasion, but not like this.
Ah, the fables of death and what makes for scary movies.
A Christian, however, knows, for sure, that this body is only the earthly house of a soul that will one day spend all eternity in Heaven. No need to fear death, blood sucking vampires or losing your head. We are more then conquerors in Jesus Christ our Lord.
That ought to fill you with joy today.
---
Quite the Drip
John Mainstone might have been called a "drip," but he never got to see the rare and exceedingly slow-moving drip he had waited decades to witness.
Professor Mainstone was the custodian of an experiment to observe pitch drop. What began in 1927 with another professor who wanted to demonstrate that given enough time certain solids, such as coal-tar pitch, would act as a liquid and drip, was taken over by Mainstone in 1961. A total of 13 pitch drops have occurred during the 85 year experiment with 5 under Mainstone's watch, but he never saw one of them. He missed one while getting a beverage
Well, the good professor died never seeing a drip.
This is about as important as watching paint dry
Let me tell you what you should be watching, what really is important - that which is done for eternity. Jesus said not to lay up treasures on this earth which are susceptible to ruin, but send it ahead to Heaven. That's living for God's purposes.
You want real joy in this life - live with eternity in view.
---
Watson, We Have a Problem
There are few things worse than a foul-mouth, cussing computer.
Do you remember Watson, that IBM computer which trounced its opponents on Jeopardy. Well, someone fed him an Urban Dictionary and now the computer has picked words not even suitable for sailors.
Apparently, Watson is unable to distinguish between good words and bad ones and just continued to come up with the wrong word at the wrong time. Sounds a lot like some kids I know. They eliminated his swearing by purging the Urban Dictionary.
What goes in the ears often ends up in our minds and comes out through our mouths. Hard to control this, but there is a way.
The Apostle Paul instructed us to think about the following - "whatever is true, honorable, just, pure, lovely, commendable, and if there is any excellence, if there is anything worthy of praise, think about these things.
Purge your mind of foul things and fill it with these things and you will have you great joy.
---
Bridge Wedding
It was a bridge wedding with the groom . . . being the bridge!
An Australian musician has married a French bridge. She's been recording vibrations that bridge cables make in hopes to create an album and there apparently were some good vibrations coming from this bridge.
The local mayor performed the ceremony. 14 guests attended. The bride wore a custom bridal gown and veil and, the groom, well the bridge looked like a bridge. We're guessing only she made vows.
The artist mentioned she has an understanding with her new husband. The bridge does not hold her back - she can love other bridges. But it gives her a safe haven."
I'm not married to this in the traditional sense of the word, but I am grounded upon a rock which is my fortress. It's my God within Whom I take refuge. He is the horn of my salvation. My shield and Savior. (2 Samuel 22:3).
You want joy, make God the foundation of your life.
---
Nailed to a Cross
What do you do if you're fired from your job? Nail yourself to a cross, of course.
Eight bus drivers from Paraguay who were fired did that very thing. The crosses were placed side-by-side on the ground with the men laid on their backs and large nails piercing their palms between their middle and index fingers. They're protesting being fired and want their jobs back. They're also on a hunger strike only taking liquids. Some are nearing critical condition.
This is not the first time in Paraguay bus drivers have protested this way. It happened in 2004.
I can think of better ways to protest.
And I can think of the real reason Someone allowed Himself to be nailed to a cross. It wasn't in protest, but for redemption of mankind. Jesus is the One and He died for the sins of the world.
You want real joy in your life, believe in the One who was crucified for you.
---
There's No Tooth Fairy
So what's the going rate for the Tooth Fairy?
When I was a kid it might have been a nickle or dime for each tooth harvested from my mouth. For my kids, it was a quarter, perhaps 50-cents. The average now is three dollars and seventy cents.
Of course this include both ends of the spectrum, from those giving a dollar to five and even twenty. One person gave an antique typewriter. Not sure how that fit under the pillow.
If you're struggling finding out how much to give, the good people at Visa have a Tooth Fairy Calculator App
Does the Tooth Fairy still work when you are older and start losing your teeth?
Ah, it's all fun and games. But amazing how God created us with "baby" teeth followed by the mature ones just waiting to come out.
You want real joy today, think about the unique intricacies of God's creation. You'll see His stamp on everything . . . and that's no fairy tale.
---
Dating Service
Single black female seeks male companionship, ethnicity unimportant.
That's the way a personal ad started. It continued noting how the future suitor loves to play, go on long walks, ride in a pickup truck, hunts, fishing trips, cozy winter nights lying by the fire.
It concluded by saying she'll be at the front door when you get home from work, ready to kiss you and wearing "only what nature gave her."
The ad . . . was by a Humane Society for an 8-week old black Labrador retriever.
Wow! Had me going.
We are social creatures needing the attention of others and pets sometimes fill that bill. I sure do appreciate my dog, Tiffers. But the human companionship I get from my spouse is even greater.
And here's something that will give you real joy - you can speak to your Father, your Heavenly Father, who loves you with an everlasting love, at anytime. He's always there. Promised never to leave you or forsake you.
---